---
LitQuake 2023
Shots from the sold out Noir at the Bar event, October 21 in San Francisco's Mission District, at the Red Poppy Art House.

Top (left to right): authors Stacey Grey, M. M. Choinard, Heather Chavez, Reece Hirsch, emcee Dale Berry

Bottom: partial audience in the packed performance space
---
---
LitQuake SF 2023 LitCrawl
Noir at the Bar
Saturday, October 21st, 6:30-7:30PM
Red Poppy Art House
2698 Folsom St., San Francisco

Mystery Writers of America NorCal returns for a night of capers and cocktails, featuring:
---
Bouchercon 2023: Murder at the Marina
August 30 - September 3, Marriott Marquis San Diego Marina
333 W Harbor Dr., San Diego CA 92101

Dale joins authors Heather Graham, Paul O'Conner, Phoef Sutton and author/moderator Tammy Kaehler for the panel "And Now For Something Completely Different: When an author writes very different styles of stories," Wednesday Aug.30 2:00-2:50pm.
---
Hear It Now
"How to Write a Mystery: Dale Berry, Steve Hockensmith, Catriona McPherson, Gary Phillips and moderator Laurie R. King" was recorded live at the 2022 Bay Area Book Festival in Berkeley CA, and is available now on Apple podcasts for your listening pleasure.
---
Comic Con International 2023
July 19-23, San Diego Convention Center
111 W Harbor Dr., San Diego C 92101

It's that time again...for the biggest pop culture event on Earth!
Dale and Myriad Publications return home to Space #E-02.
Drop by and say hello!
---
Left Coast Crime 2023 "Trouble in Tucson"
March 16-19, El Conquistador Hilton Resort
10000 N. Oracle Rd. Tucson, AZ 85704

Dale joins heavy hitters Naomi Hirahara, Gigi Pandian, Alex Segura, and moderator/Grandmaster Laurie R. King for the 'How To Write A Mystery' panel, Saturday, 9 AM
---
Interview
Dale was invited on the Bay Area's Graphic Novel Geeks podcast to discuss recent 'Moonlight Cutter' developments, including the forthcoming animated series, the inspiration behind the graphic novels and much, much more.
Our many thanks to Keith, Tatsuo and Dylan for the opportunity! Click on the red button to view on this page, or click "Watch on YouTube" to visit their channel and find out more about the show.
---
---
Winner 2022 Anthony Award Best Non-Fiction, Bouchercon World Mystery Conference

Winner 2022 Macavity Award Best Non-Fiction, Mystery Readers International

Winner 2022 Agatha Award Best Non-Fiction, Malice Domestic Conference

On Sale Everywhere

Indiebound
Barnes and Noble
Amazon
Bookshop.org
Booksamillion

Pictured: MWA Grandmaster Laurie R. King (co-editor, with Lee Child) and the Anthony Award at Bouchercon 2022, Minneapolis
---
Sept. 8-11
Hilton Minneapolis
1001 Marquette Ave. South

Dale appears on the following panels:

How To Write A Mystery-the MWA Anthology, Sat. 1:45PM
with Charles Todd, Naomi Hirahara, Catriona McPherson, Alex Segura, and MWA Grandmaster Laurie R. King as moderator.

BOOM! Ka-POW! Comics and Graphic Novels, Sun.9AM
with Christa Faust, Glenn Parris, Hilary Fitzgerald Campbell, Alex Segura, and moderator Chris Chambers.
---
---
| | |
| --- | --- |
| | Legion M has officially announced Tales of the Moonlight Cutter for animated series development. |
---
Comic Con International 2022

July 20-24, San Diego Convention Center

111 W Harbor Dr, San Diego, CA 92101

Myriad Publications returns home to space #E-02, for the biggest pop culture event on Earth!
---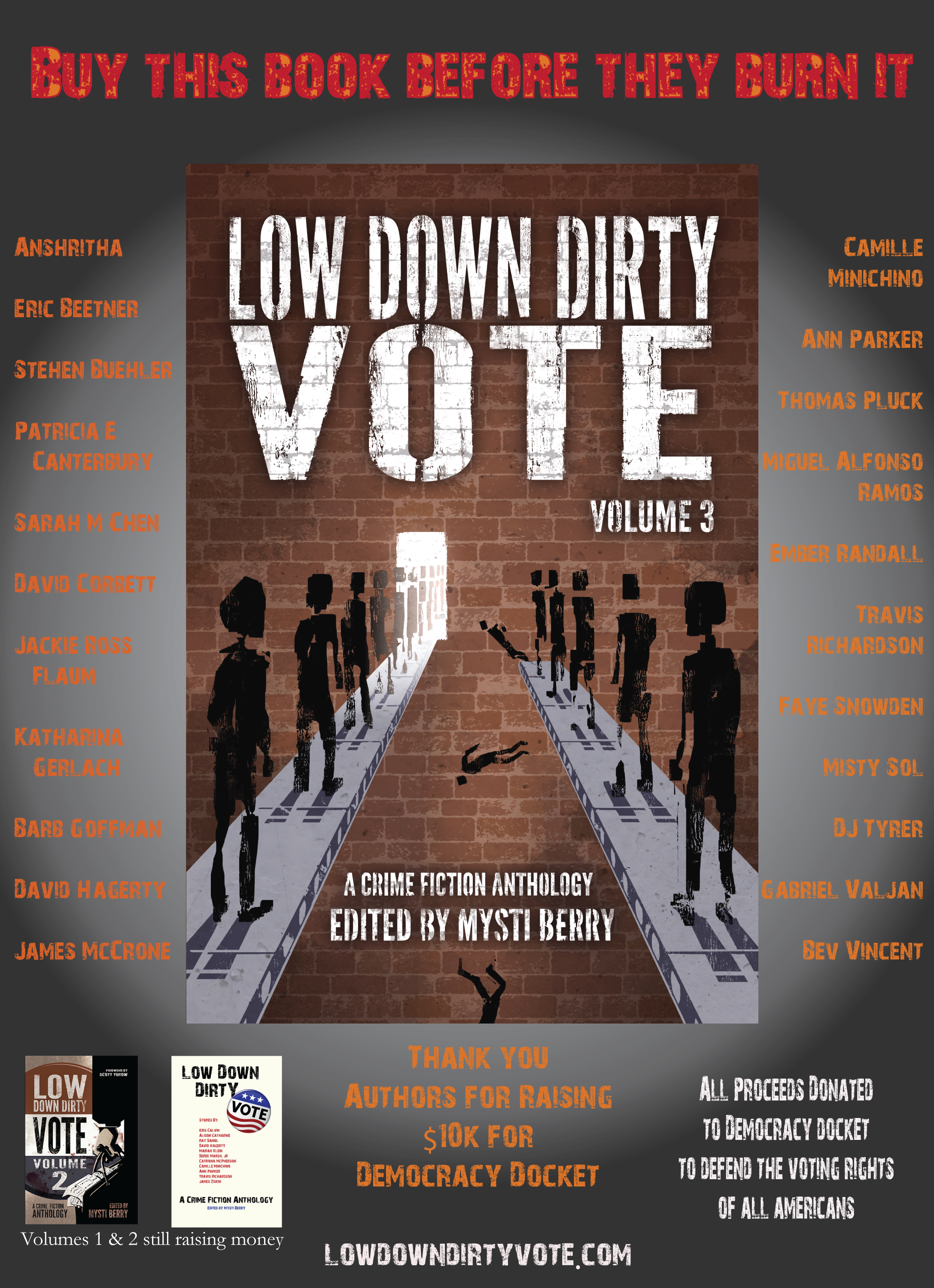 ---
Boba & Mystery at the Fair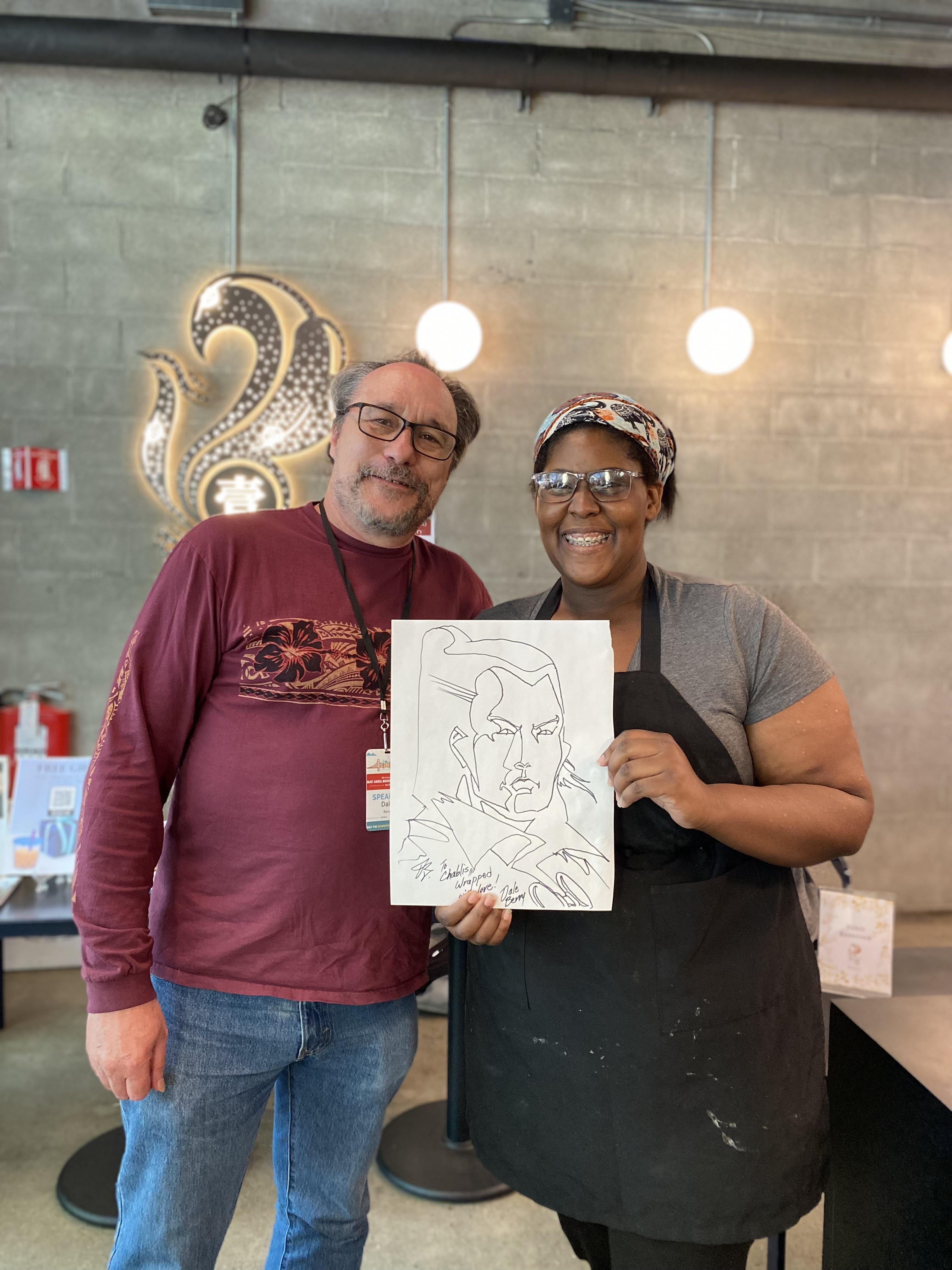 Authors Jennifer Chow, H-C Chan and Dale Berry read from their latest, and Dale gave a quick drawing demonstration at One Plus in Berkeley, Sat. May 7th, during the 2022 Bay Area Book Fair. Many thanks to our hosts Yezhi and Chablis for the delicious crepe and Jasmine Tea, and shout out to Anna Manwaring for the photos and video!
---
Saturday, May 7, 3PM: Afternoon (Boba) Tea & Mystery
Featuring authors HC Chan, Jennifer Chow and Dale Berry
One Plus, 2161 Allston Way, Berkeley CA
Sunday, May 8, 12:30-1:30PM: How To Write A Mystery
Dale joins authors Steve Hockensmith, Catirona McPherson, Gary Phillips and moderator/MWA Grandmaster Laurie R. King for a spirited discussion.
(Author signings at 1:45PM)
The Marsh Berkeley Theater, 2120 Allston Way, Berkeley CA
Ticket Info
---
Now in Paperback!

Winner 2022 Agatha Award for Best Non-Fiction
---
---
Nov. 26-28, 2021, San Diego Convention Center

Dale and Myriad Publications will be at space #J-02
---
MWA NorCal Noir at the Bar
Clockwise from top, left: Silver Sprockets stage, Michael Nava, Dale Berry (emcee), Lisa Towles, M.M. Chouinard, and Alan Jacobson
(Not pictured: SRO crowd and people sitting on the floor)
---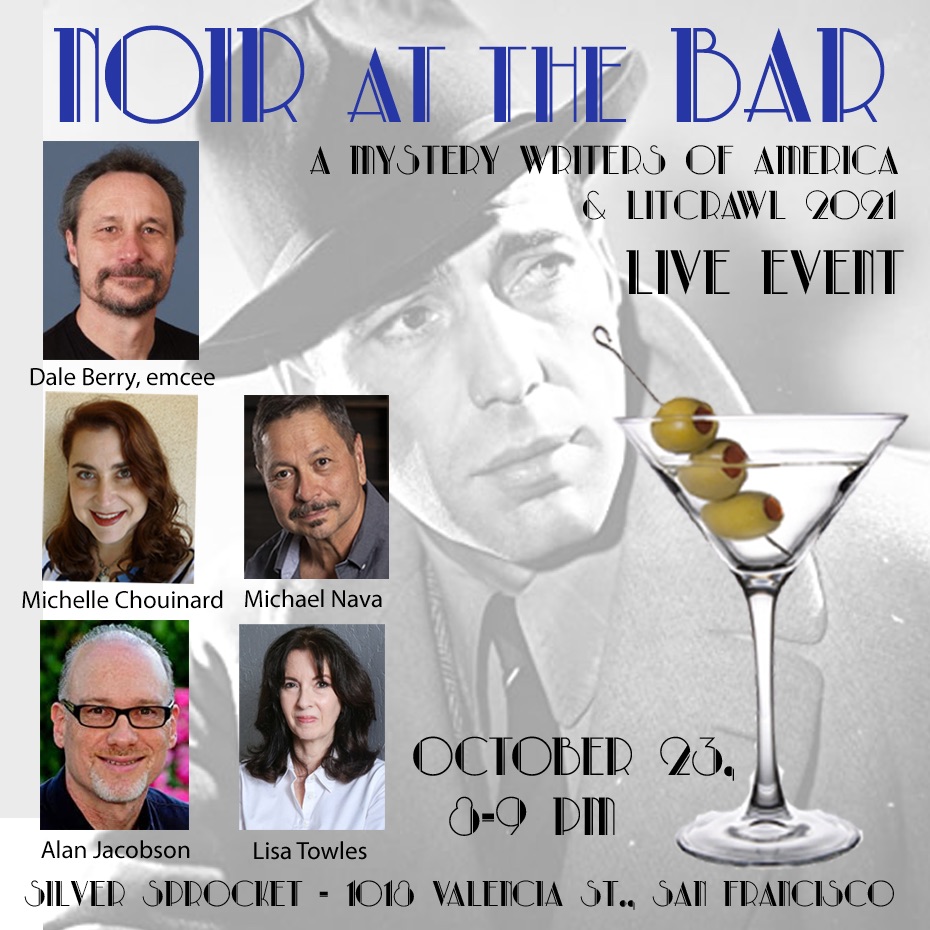 ---
Noir At The Bar 2021 – Live!
Dale Berry will emcee Noir At The Bar with Mystery Writers of America, for LitQuake San Francisco's LitCrawl 2021. This year's lineup features Michael Nava, Lisa Towles, Alan Jacobson, and M.M. Chouinard.
Join us on Saturday, October 23, 8-9 PM at Silver Sprocket, 1018 Valencia Street, San Francisco (in the Mission) for an evening of award-winning and bestselling authors reading their work in person for an audience of readers, writers and, um...drinkers.
---
July 23-25, 2021

Myriad will be there, with special deals for virtual attendees.

Just follow the link to our Exhibitor's Page.
---
Washington Post & NY Society Library: the MWA Handbook
The Washington Post's Book Club newsletter has selected How to Write a Mystery as one of their recommended Father's Day gifts. See the newsletter online.
Also, a panel discussion is scheduled for The New York Society Library with Handbook contributors Laurie R. King, Jeffrey Deaver, and Charles and Caroline Todd. Registration link.
---
Now On Sale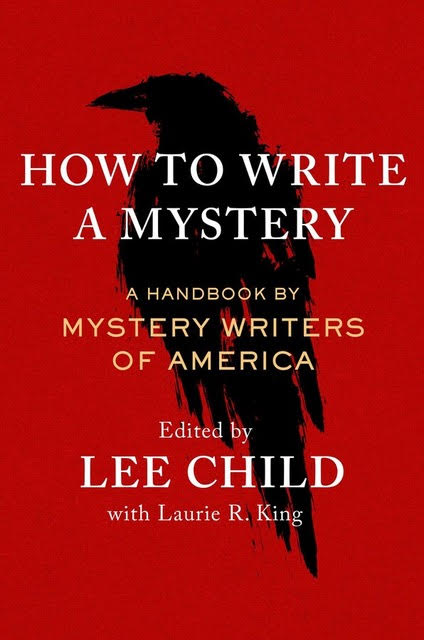 Alongside contributions from the leading lights of crime and mystery fiction, Dale Berry and Gary Phillips reveal what goes into creating the modern Graphic Novel.
For more information, see the MWA website.
Available from: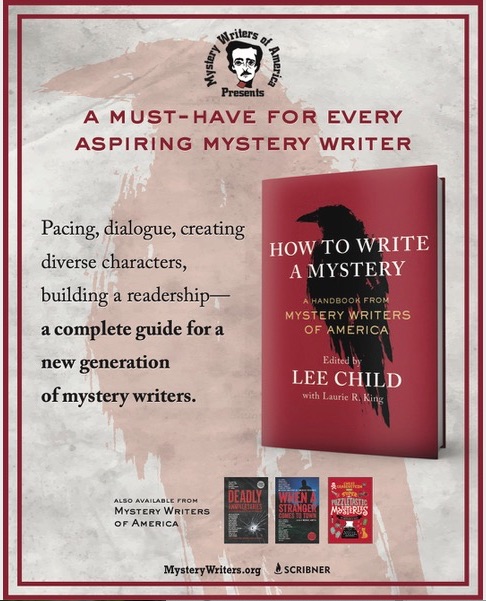 ---
Bouchercon 2020, Oct. 16-17
This year's big event, streaming virtually to the world, with information and insight on the tradecraft, industry and history of Crime and Mystery writing. Come meet and learn from the pros! Guests of Honor include Scott Turow, Walter Mosley, Anne Perry, Anthony Horowitz, Cara Black, and featuring Fan Guest of Honor Janet Rudolph and Toastmaster Catriona McPherson.

Plus: Dale joins an illustrious cast of authors for a special on-line performance of the Anthony Boucher Radio Play, "Casebook of Gregory Hood: The Ghost Town Mortuary."

Register through October 4, 2020: https://www.bouchercon2020.org.
---
Comic Con 2020 At Home
---
Low Down Dirty Vote Live
Dale reads "Civic Duty" by Camille Minichino on Facebook Live.
More authors, more info:
---
Live Reading: Thursday 4/9/20
Low Down Dirty Vote is a crime anthology series featuring original short fiction from some of the genre's top authors, dedicated to the fight against voter suppression. This charity collection donates 100% of its sales to organizations that work to make every vote count.
On Thursday, April 9 at 6:00 PM, Dale will be broadcast on Facebook Live, reading one of the collection's stories, "Civic Duty" by Camille Minichino.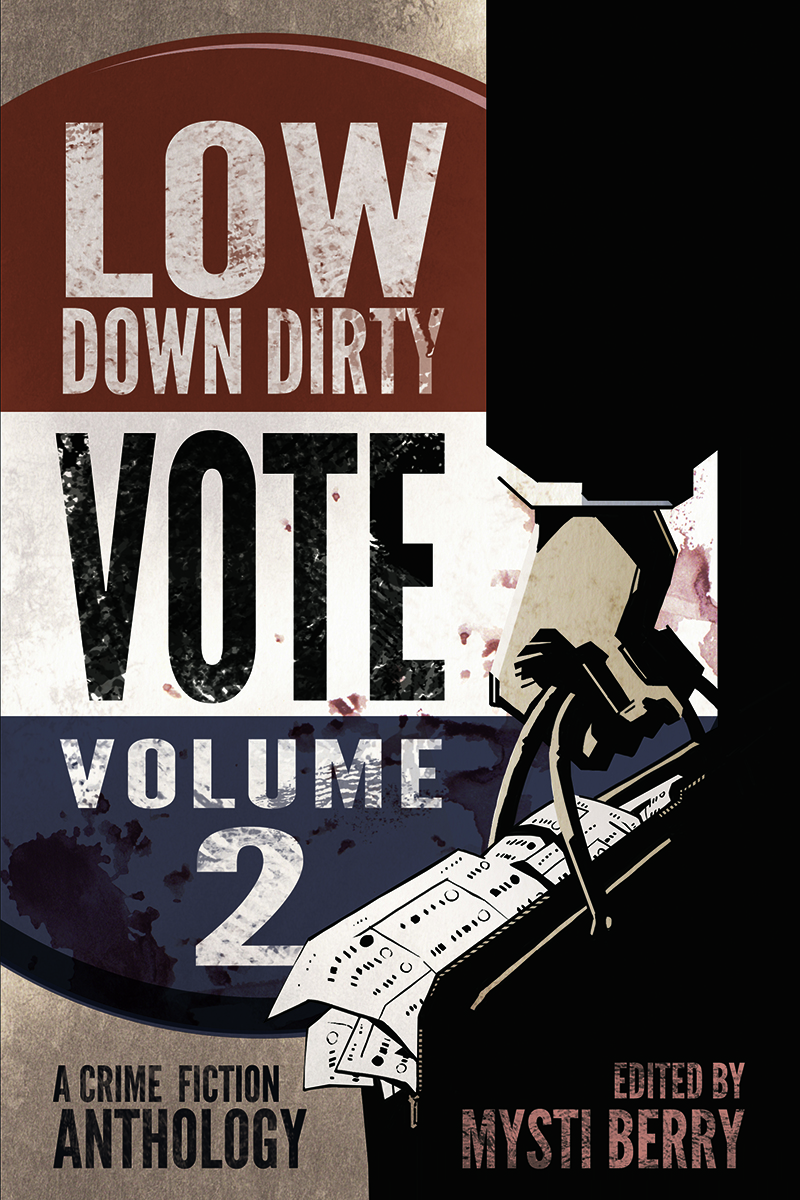 Low Down Dirty Vote Volume I is available now. Volume II drops on July 4, 2020. Order your copies of the books, and help in the battle to defend democracy!
---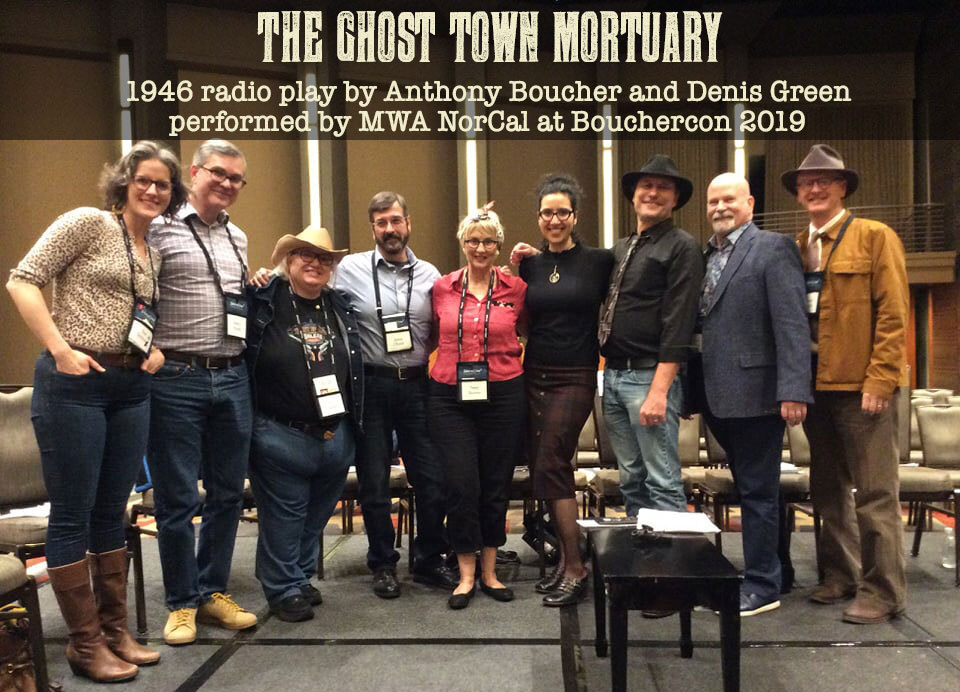 Curtain call (L to R): Zoe Quinton (sound fx), Reece Hirsch, Kelli Stanley, James L'Etoile, Terry Shames, Gigi Pandian, Dale Berry, David Corbett, Randal Brandt.
A large crowd gathered on Friday morning, November 1st, at Bouchercon 2019 in Dallas, Texas to attend a live performance of "The Ghost Town Mortuary," a radio play written by Anthony Boucher and Denis Green. The script for this play, which was originally produced as an episode of The Casebook of Gregory Hood mystery series in 1946, was discovered in the archives of the Bancroft Library at the University of California, Berkeley among the papers of English professor George R. Stewart, who had a small role in the play as a special consultant who provides a key clue to Gregory Hood. Boucher, in whose honor Bouchercon is named, was a founding member of Mystery Writers of America in 1945, and was the founding president of the Northern California chapter in 1947.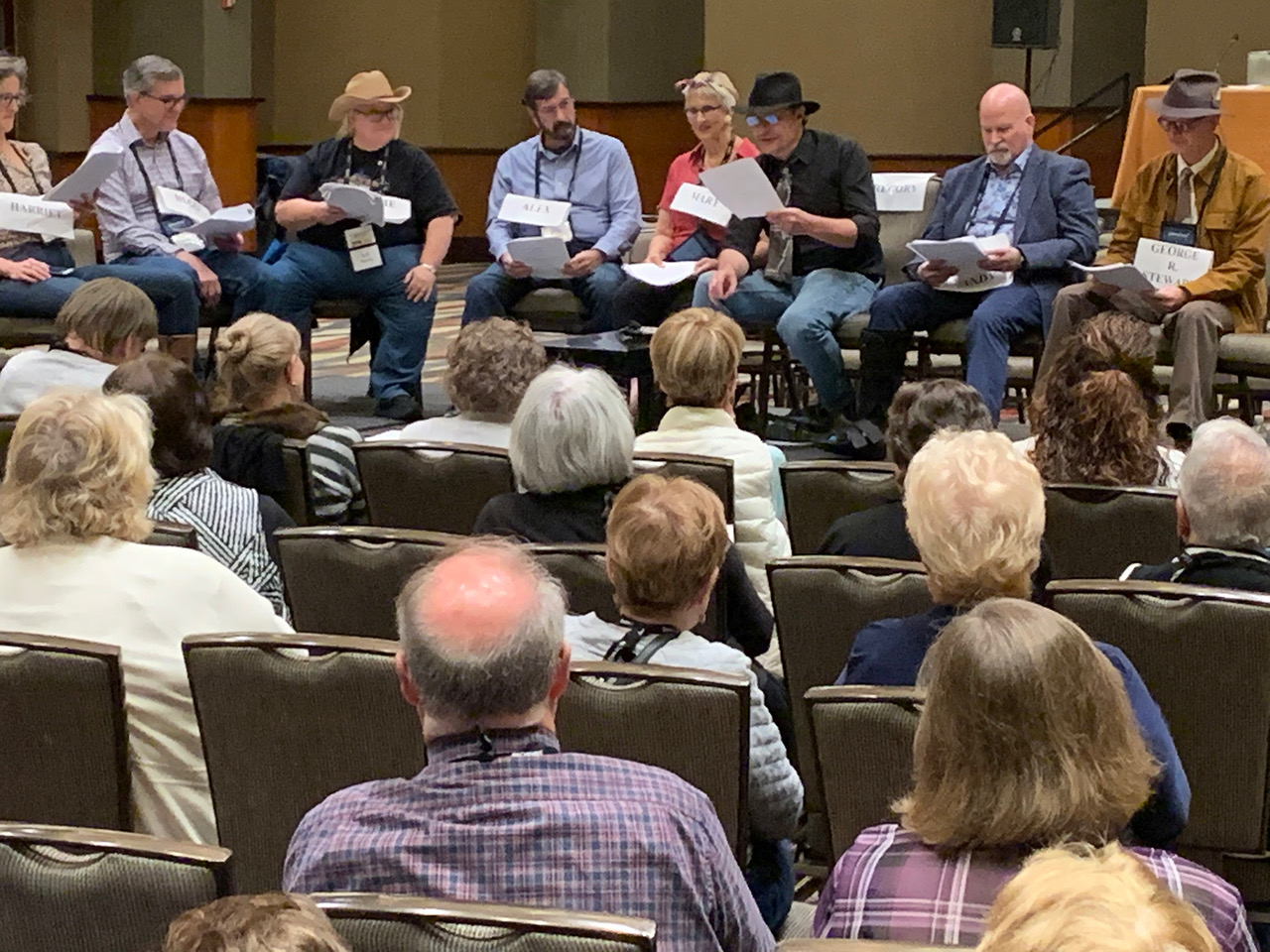 "At Bouchercon 50, the organizers did a great job of highlighting the Anthony Boucher legacy. They featured Boucher experts Mike Nevins, Marvin Lachman, and Jeffrey Marks (as well as sons me and Jim). But the coup de grace and cherry on top was the live performance of Boucher's Gregory Hood radio play 'The Ghost Town Mortuary' by the MWA NorCal Chapter. Despite competing with nine panels and interviews at the same hour, it was very well attended. The play was performed with gusto, humor, and, dare I say, reverence, confirmed by the audience's enthusiastic reactions throughout. Encore!" -- Larry White (son of Anthony Boucher)
---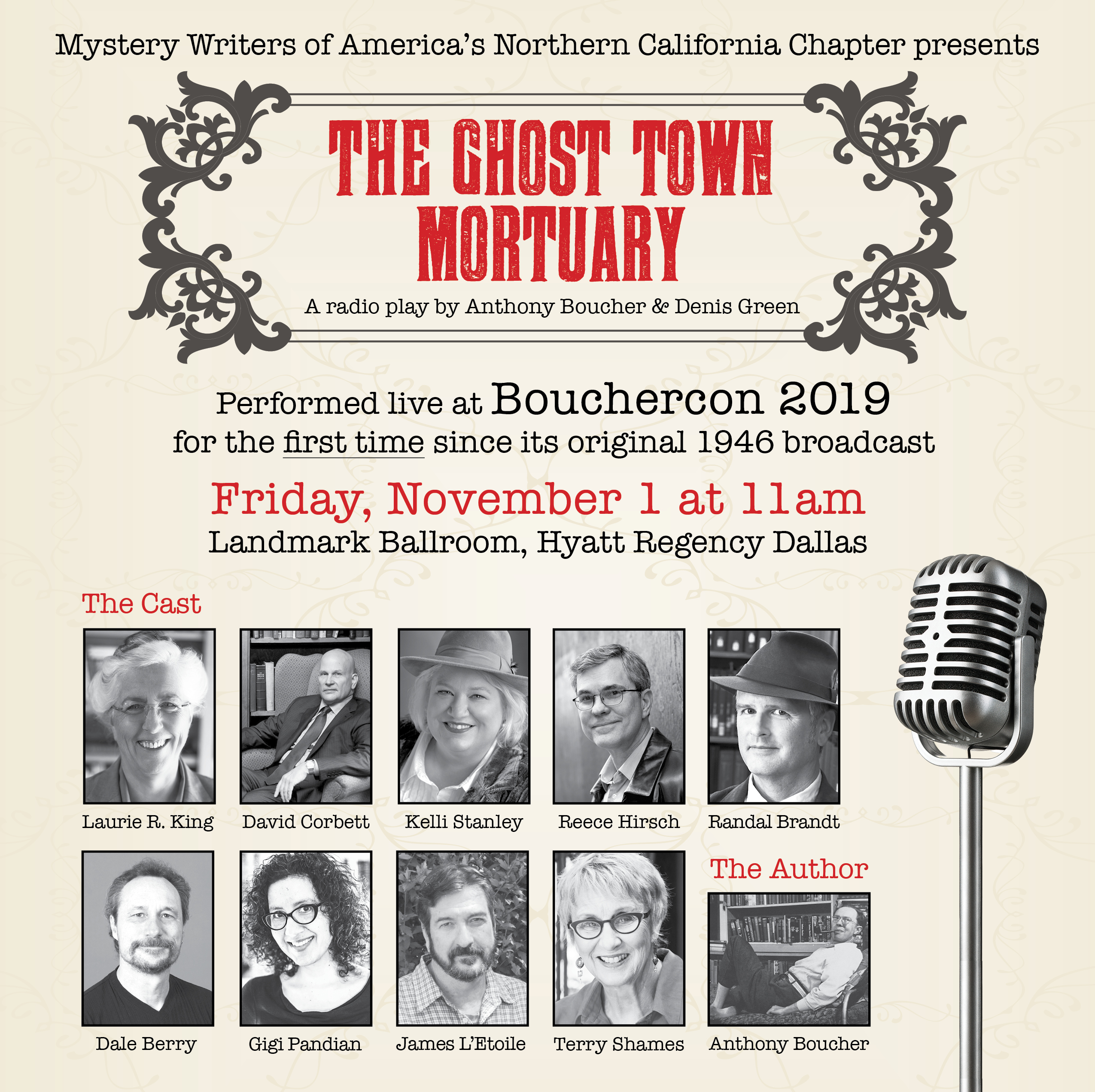 ---
Be-Bop Buzz
The Be-Bop Barbarians, left, spotted on display in Foyle's, Charing Cross, London.

"The Be-Bop Barbarians took my breath away. When I finished it I felt I'd just put down an important work. I don't feel you can read it without thinking about the tensions, racial and otherwise, that are happening in America now." -- SleuthSayers.org

"As beautifully told as it is illustrated...Phillips uses his 50's Harlem setting to explore the nexus of pop culture, politics, and protests." -- Crime Reads, The Best Historical Fiction of 2019 (So Far)

Dale Berry, below, at the opening of the new Barnes and Noble in Concord, CA.
---
On Sale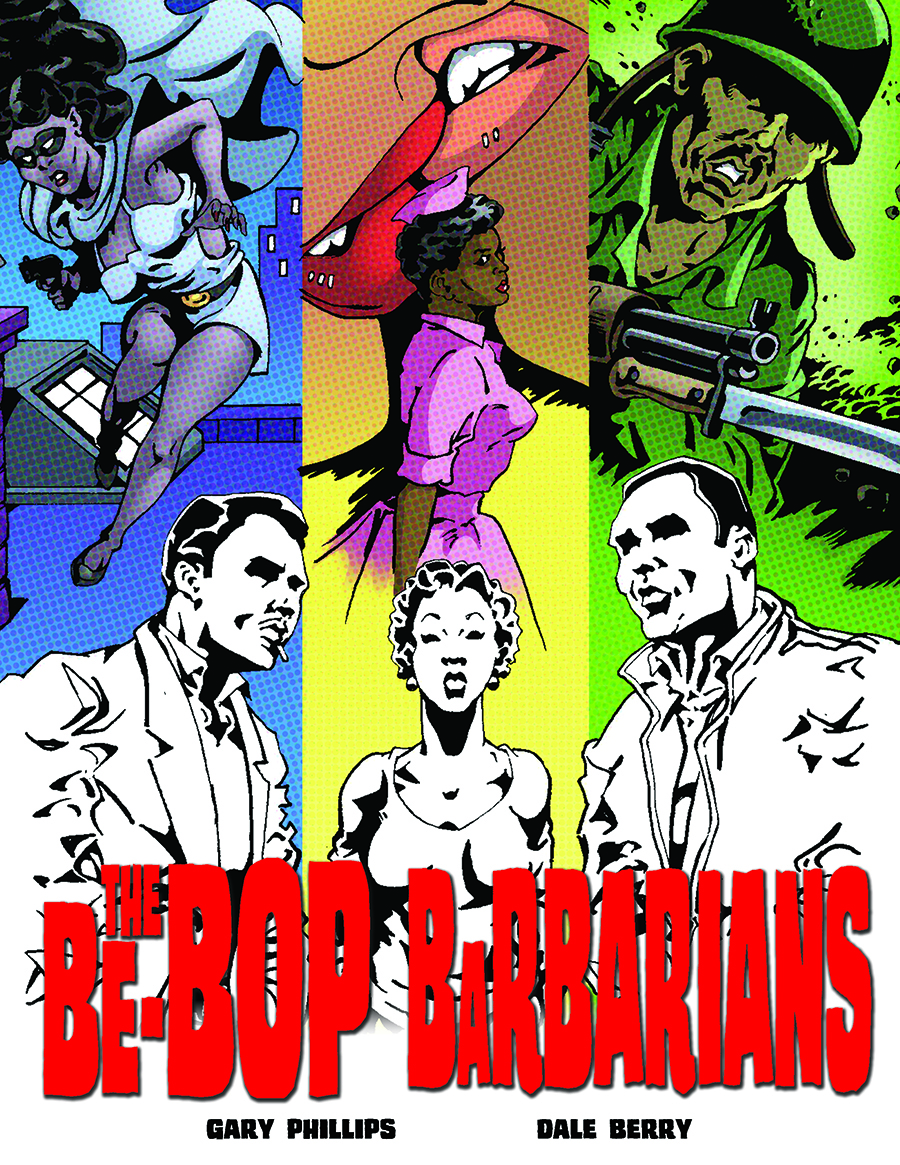 "A book for adults that is sensual as well as colorful. The characters of Phillips and Berry are not just images on the page, they have depth...a hip read."
-- E. Ethelbert Miller, New York Journal of Books
"A fascinating, gripping look at life in the 1950s for three African-American artists living in New York City...a vivid and vital account of the hardships and unjust social realities of the day...this book introduces a new generation of readers to some important, often forgotten, comics artists from the past."
-- Stergios Botzakis, Graphic Novel Resources
"[This] love song to the history of black comics is beautiful and moody, channelling the quiet desperation, simmering anger, and creative intensity of 1950s noir."
-- Molly Odintz, CrimeReads

"Highly recommended. The artwork is bold and handsome, often with very fine design work..."
-- Bud's Art Books
To order:
Published by Pegasus Books
---
On Sale
---
Preview: The Be-Bop Barbarians
In the turbulent era of 1950s Manhattan -- with jazz, the burgeoning Civil Rights Movement, and the Red Scare as the volatile background -- three groundbreaking Black cartoonists will defy convention and pay the price.
Prose by crime fiction author Gary Phillips (Violent Spring, The Obama Inheritance) and images by Dale Berry. Coming in 2018 from Pegasus Books.
---
On Sale
"Dead Air," Dale Berry's latest graphic short story, is available now. Find it in the new issue of Alfred Hitchcock's Mystery Magazine (March/April 2017), wherever books and magazines are sold.

Read Dale's guest post on the Alfred Hitchcock's Mystery Magazine's editor's blog Trace Evidence.

To order on Digital
---
New Hitchcock On Sale 2/21/17
"Dead Air", the latest short story written and illustrated by Dale Berry, will appear in Alfred Hitchcock's Mystery Magazine, in the March/April issue. On sale nationwide February 21, 2017.
Last year, Dale Berry's "Not A Creature Was Stirring..." was the first graphic fiction ever published by AHMM.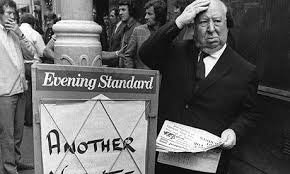 ---
Magic & Mystery
Gigi Pandian is the USA Today bestselling author of The Accidental Alchemist Mysteries and the Jaya Jones Treasure Hunt Mysteries.

Dale has been commissioned to create a special, limited edition print to commemorate the publication of her new Jaya Jones novel, Michelangelo's Ghost.

Signed and numbered, these prints will be presented to lucky fans at this year's Bouchercon New Orleans.

To view the raw pencil art in detail, click the thumbnail.

To find out more about Gigi Pandian and her remarkable series, visit here.
---
Now It Can Be Told...
From an undisclosed location, somewhere deep in the heart of Bakersfield CA, a small band of broadcast journalists, educators and comedians fight the Good Fight against tyranny, hypocrisy and ignorance.
They are known only as the Alright Four, and about a year ago Dale Berry was invited to their secret lair to discuss the state of the world.
Remarkably, the hot topics of the day (international terrorism, Donald Trump) haven't changed all that much.
You can listen to their podcast here.
---
On Sale
Dale Berry has created the first graphic short story ever published in Alfred Hitchcock's Mystery Magazine.

Read "Not a Creature Was Stirring..." in the Special Winter Double Issue, celebrating 60 years of the magazine's publication.

Available nationwide, wherever magazines are sold.

Read Deborah Lacy's interview with Dale at the Mystery Playground blog.
---
In Memorium
It is with profound sadness that we announce our long-time friend and collaborator, artist and photographer Sebastian Castillo passed away on September 22, 2015. He is survived by his wife and four children.
To assist during this difficult time, we ask you to please contribute to a special GoFundMe site, which will help defray the cost of funeral expenses, and to provide care for the family.
---
Good Eeevening...!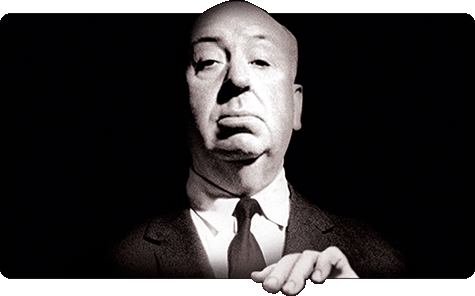 Dale Berry's latest work will soon be published in the pages of Alfred Hitchcock's Mystery Magazine.
Developed with Editor Linda Landrigan, and working with Art Director Vicki Green, Dale has created the very first comic story to appear in the prestigious magazine's 60 year history.
---
Myriad at the PSWA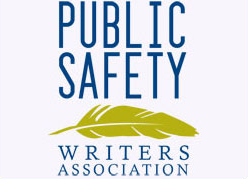 Writers from law enforcement, fire fighting, emergency response, and security gather for the Public Safety Writers Association Annual Conference, July 16-19, 2015, at the Orleans Hotel & Casino in Las Vegas, Nevada.
Myriad Publications proudly sponsors the coffee service on Sunday.
---
Where Danger Lives...

William E Wallace writes tough. Take his novel I Wait To Die!, set in modern times but evoking classic crime paperbacks of the 50's and 60's. The prose is lean and suspenseful, yet connects with the hard truths and the vulnerability of those caught up in the Life. It's the real underworld, driven by characters who could have emerged from the black thoughts of Jim Thompson, or the schemers and and strategists of Elmore Leonard and David Goodis. Down such mean streets of hard-boiled fiction, Wallace travels like a Prince of Darkness.
None of which should come as a surprise. After 40 years as a reporter, and a background that includes time spent as a private investigator, he knows the worlds of which he speaks.
His blog, Pulp Hack Confessions, investigates the latest in edgy, dark crime and suspense novels and the people who write them. Meeting on a panel at Left Coast Crime Portland, I was surprised to find out he'd been reading the Moonlight Cutter series for a while. To say I was flattered would be an understatement. Check out his review. Then check out his site all over again, and discover for yourself just how noir it can get.
---
Tales of the Moonlight Cutter #5: Grimoire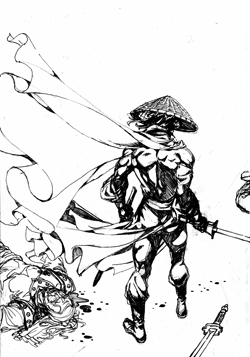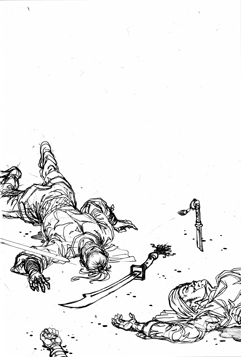 A special collection of supernatural stories and art featuring the Master of the Cold Moon Sword, rendered by fans, pros, and talented newcomers!
Featuring an intense new tale by creator Dale Berry, plus artist/martial arts instructor Robert Zailo, photographer Sebastian Castillo, illustrator Sean Sagawa, and many others! 72 Big Pages, at a Price-Busting $6.50.
Now Available -- Order yours today!
---
Shen Hua Yen on the Big Screen?
Tales of the Moonlight Cutter has been optioned for film and television development. Check back for project details as they evolve!
---
The Art of Turburam Sandagdorj
Evocative and intricate, combining ancient tradition with contemporary flourish, "Turo" is a modern master of the paper silhouette, whose work has been exhibited across the globe.

Raised in Mongolia, the fifth child from a family of artists, he creates freehand, using only small scissors and his mind's eye.

Myriad Publications is proud to announce that this incredible talent has created a very special piece to grace the cover of Tales of the Moonlight Cutter. We'll reveal it here soon, so be sure to check back.

Below is just a small sample of the artist's skill. To find out more, visit Facebook: Turburam Sandagdorj and SturoArt, or contact sturburam@yahoo.com. You can search his full name in Google to find other short articles and images.
---
Long Live the Wild Hare: A Rock Radio Story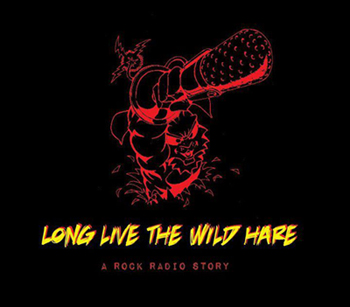 It's been called "the dirtiest station in the country." Its public events made the national news, and it was featured on the TV show "Cops" (twice!). It was 103.7 KRZR, "the Wild Hare," and for listeners across the globe, it brought the hardest in hard rock and heavy metal.
Now, here's the unauthorized documentary of Fresno, California's legendary renegade rock station. Featuring artwork and commentary by, among others, Wild Hare Artist and DJ/Air Personality Dale Berry.
To order the DVD, visit here.
For more information, visit the Facebook page.
---
Best of Show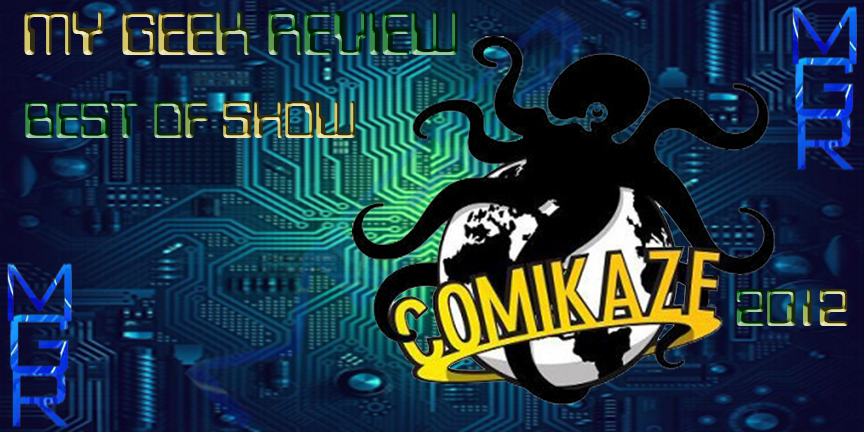 Myriad Publications was awarded Best Of Show at Stan Lee's Comikaze Expo by MyGeekReview.com.
---
USA Today Talks to Dale Berry at SDCC
Dale joins Stan Lee, Pauly Shore, and others at the San Diego Comic-Con for USA Today. Dale appears at about 1:30.
---
New Tales Sells Out First Day of Comic Con 2012!
By Thursday, Tales of the Moonlight Cutter #5: Grimoire had completely sold out! Dale took orders for the rest of the week from hungry fans. Our deepest thanks and our most sincere appreciation goes out to all our readers for this unprecedented response. You're the best! (And your books are on their way...!)
---
Myriad Pubs. New Address!
We've moved! Our new digs in the Bay Area:
Myriad Publications
615 Randolph Street
San Francisco, CA 94132
---
New Series Preview!
Dale has created a collection of artwork for a brand new series, inspired by classic characters from the pulp magazines of the 1930's, the heroes of comics' 1940's Golden Age, movie serials, and film noir!

Black Scarab: A Pulp Hero Portfolio is a privately printed, limited edition art book of only 200 copies, each numbered and signed by the author. $10, and can be ordered here.
---
First Tales of the Moonlight Cutter Sold Out!
Now available in its 2nd Big Printing! Order your copy now!
---
Moonlight Cutter in Digital Format
The Moonlight Cutter series is now available for download from NexStudios.jp.

---
Moonlight Cutter Now Available from Diamond's Star System
Due to high sales and continued demand, the entire Tales of the Moonlight Cutter series has been added to Diamond Distributor's Star System, where it is now available to comic book stores anytime! Retailers, contact your Diamond representative for orders!
Tales of the Moonlight Cutter #1: PO Number: DEC073817
Tales of the Moonlight Cutter #2: PO Number: MAY032424
Tales of the Moonlight Cutter #3: PO Number: JAN022624
---
Moonlight Cutter In The News
Tales of the Moonlight Cutter received positive mention in BLACK BELT Magazine's coverage of the 2007 San Diego ComicCon International! Read about it in BLACK BELT's Bruce Lee Anniversary Issue (November 2007), or online now:
http://www.blackbeltmag.com/archives/552 (Thanks to editor Ed Pollard.)
Tales of the Moonlight Cutter and Dale Berry also received a positive review in the Fresno Bee on September 20, 2007:
http://www.fresnobee.com/columnists/bentley/story/143549.html
---
Paypal Ordering Now Available
Visit the Order Info page to order your favorite Moonlight Cutter issues using Paypal.
---
Now Available on Amazon.com
You can visit Amazon.com to order your favorite Moonlight Cutter issues.
---
George MacDonald Fraser's notorious literary scoundrel brought to visual life!
---